16
16
16
VIP Minibus
Reclining, full-leather seats
Individual roof lights
Individual air conditioner
Individual 12V power slot
Scenic window
Mineral water
Refrigerator
WiFi on board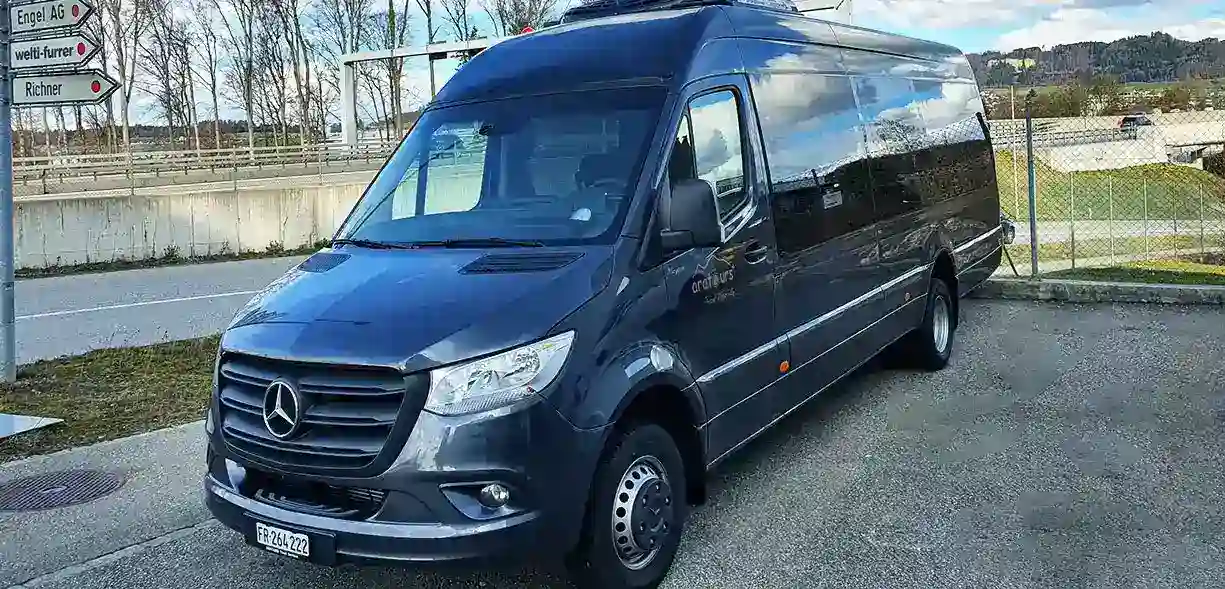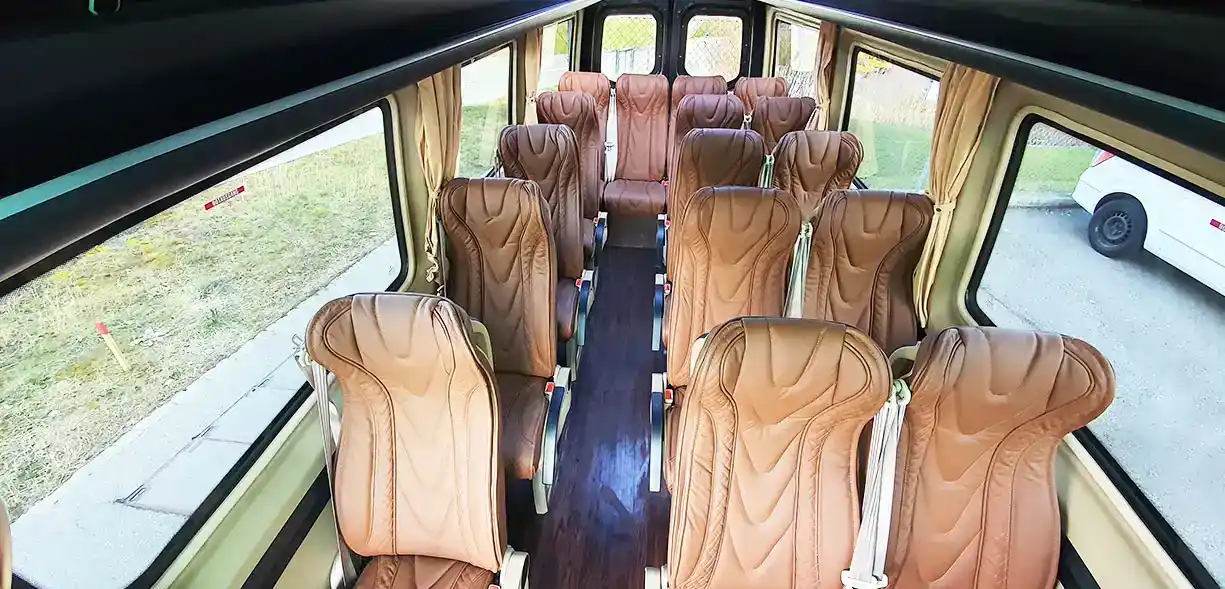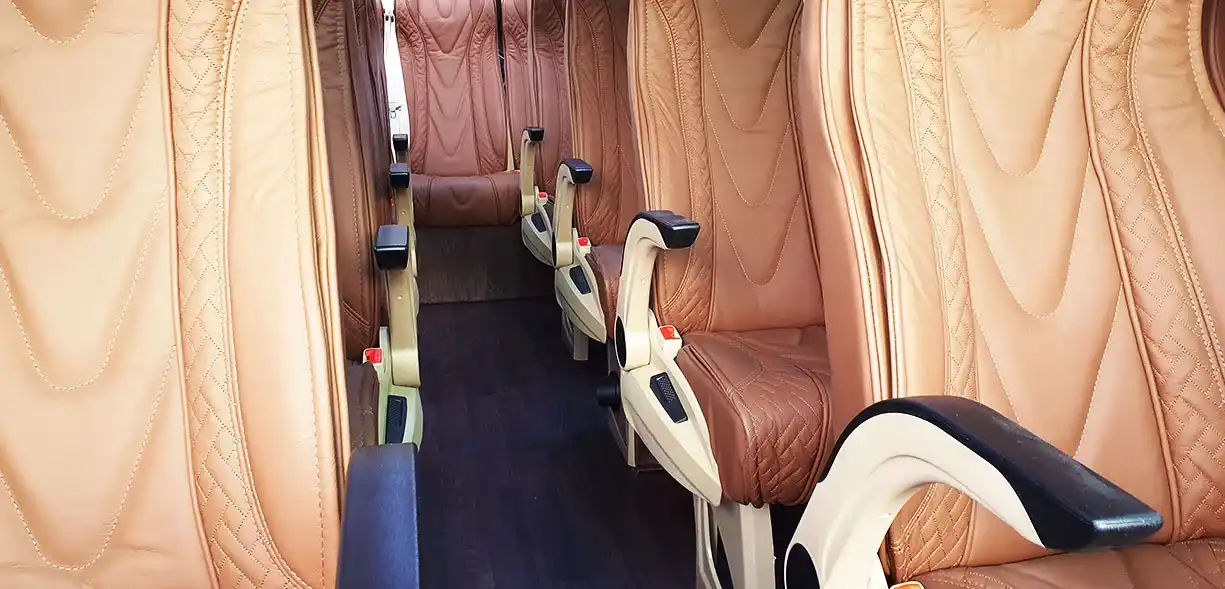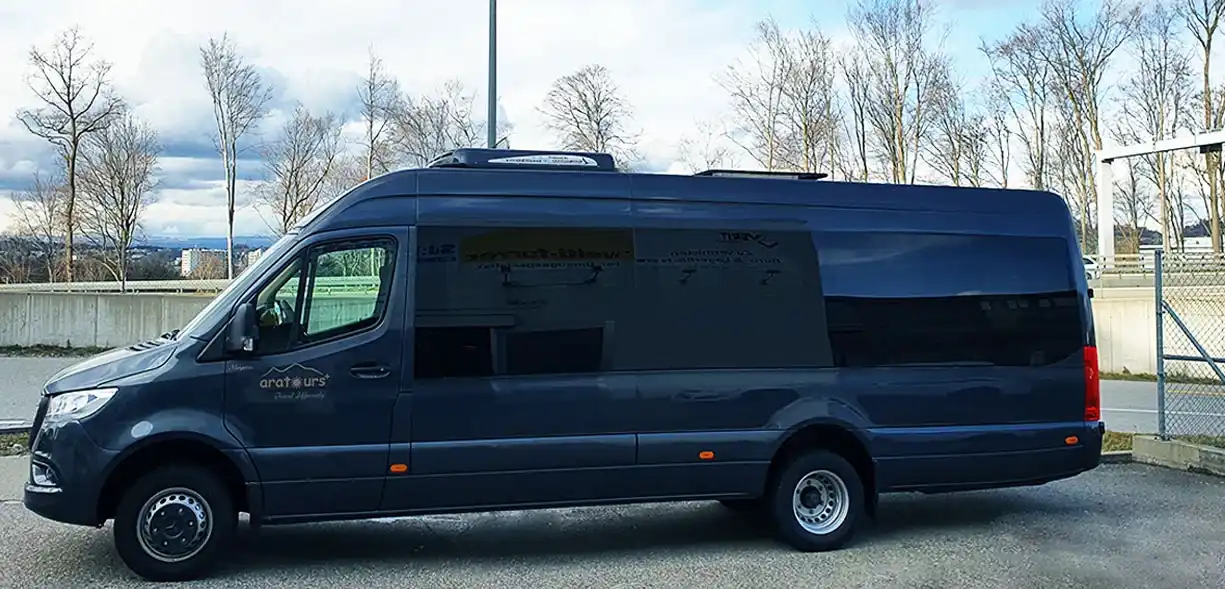 VIP Minibus
Reclining, full-leather seats
Individual roof lights
Individual air conditioner
Individual 12V power slot
Scenic window
Mineral water
Refrigerator
WiFi on board
Switzerland is a wonderful place to experience new adventures. Especially if you can share these precious moments with your family or friends. Are you planning to spend your summer/winter holidays in this amazing country or are you visiting for another particular reason? Great, then you'll need an appropriate vehicle to be your loyal partner during this trip.
AlpTransfer.com is a transfer operating company specialised in private transfers from the cities of Zurich, Geneva, Basel, Bern to the Swiss cantons and neighbouring countries. For your special occasions in Switzerland, our skilful team is offering sixteen seated Mercedes Benz Sprinter. This bus combines comfort, safety, style and pleasure, as well as being perfect for large group airport taxi transfers.
The Mercedes Benz Sprinter is a vehicle built by Daimler AG of Stuttgart, Germany and is available as a passenger van, chassis cab, and minibus.
This Sprinter includes air-conditioning and reclining leather seats. It is perfect for both business and leisure transportation. With seats for up to sixteen passengers, the vehicle is still offering plenty of space for the luggage. It lets you carry around sixteen medium and small-sized bags.
Mercedes Benz Sprinter has eye-catching, fashionable interior and elegant exterior designs. That is specially styled to provide the passengers with a relaxed and safe atmosphere. While sitting in this bus, you will have the feeling of luxury mixed with modern technology.
The bus has large, dark tinted windows so that you can view the passing beautiful scenery during the journey and for your handbags, additional storage is available above the passenger seats.
Only licensed drivers with differing language knowledge drive this vehicle by making the ride trustworthy and secure. In the case of airport pickups, our experienced driver will wait for you in the arrival hall with your name sign, so that you can easily locate him. If needed, he will eagerly help you with uploading and unloading your suitcases into the vehicle.
Mercedes Benz Sprinter fulfils the most challenging needs of the customers. It reduces the road and wind noise to a minimal level, even at high speed. It provides a peaceful and smooth ride, while extra safety systems applied to the new generation of Sprinter will make your trip even more comfortable.
We take into consideration how hard it can be to plan trips for bigger groups. Which is the reason we are devoted to ensuring that you get your door-to-door transfer on time, quickly and with calmness.
If you're looking for a practical bus for carrying your large group or family, then you should definitely book a transfer by Mercedes Benz Sprinter. Our team will make sure to provide high-quality transfer services tailored specifically to your needs!