Выберите и закажите трансфер
Shuttle Transfers
From Zurich Airport to Lauterbrunnen & Stechelberg
Starting from the 1st of December 2021, AlpTransfer.com will be offering a shuttle transfer service to the Swiss car-free resorts of Wengen and Mürren. It is a convenient way to reach these ski resorts by taking the shuttle from Zurich Airport to Lauterbrunnen and Stechelberg.

The experienced drivers will be at your disposal with Mercedes Benz Sprinter Minibuses that are fully equipped, comfortable, and spacious, for luggage and skis or snowboards. The shuttle is both affordable and less timely than taking the train, it saves you from the inconvenience of changing two trains and almost half the time to be spent on the road.

All you have to do is to put on your winter sportswear, pick your ski or snowboard gear, and take advantage of this shuttle transfer to Lauterbrunnen and Stechelberg while sparing the fatigue and stress on the road.

Entrust your transfer from - to Zurich Airport to the AlpTransfer team and benefit from Swiss quality service.

Below you will find the complete information on the regulated timetable for the shuttle roundtrips.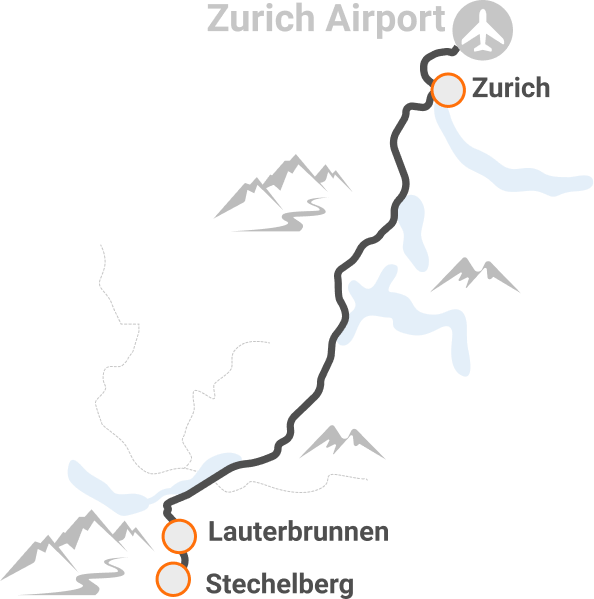 Zurich Airport ZRH (CH-8058)

➜

Lauterbrunnen (CH-3822)

➜

Stechelberg /Schilthornbahn (CH-3824)

Place

Pick up Location

Timetable

Zurich Airport ZRH (CH-8058)
Arrival 2 Exit
09:10
14:10
20:00
Lauterbrunnen (CH-3822)
Bus Parkplatz Beim Bahnhof
11:00
16:00
21:50
Stechelberg /Schilthornbahn (CH-3824)
Stechelberg, Schilthornbahn
11:10
16:10
22:00
Stechelberg /Schilthornbahn (CH-3824)

➜

Lauterbrunnen (CH-3822)

➜

Zurich Airport ZRH (CH-8058)

Place

Pick up Location

Timetable

Stechelberg /Schilthornbahn (CH-3824)
Stechelberg, Schilthornbahn
06:10
11:30
16:30
Lauterbrunnen (CH-3822)
Bus Parkplatz Beim Bahnhof
06:20
11:40
16:40
Zurich Airport ZRH (CH-8058)
Arrival 2 Exit
08:10
13:30
18:30