Mercedes Benz S Class 350 4/4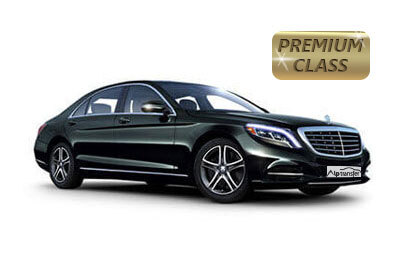 VIP Vehicle
Full leather seats
Air condition
Mineral water
12V power slot
DVD player
WiFi
Nowadays, people prefer to travel from one point to another not only with comfort, but also in style. AlpTransfer organizes luxurious airport taxi transfers from Geneva and Zurich within and throughout the borders of Switzerland. Our team is here to offer one of its executive cars in order to satisfy your needs.
Previously known as "Sonderklasse" (translated from German as "special class"), Mercedes Benz S Class introduces a wide range of limousine vehicles, which are being produced by the world-famous German automaker Mercedes Benz.
The synonym for S Class cars has always been and continues to remain the word "Luxury". S Class is ranking as the best-selling luxury sedan of the world. The S Class represents many of the company's latest innovations, including drivetrain technologies, interior features, and safety systems.
Mercedes has completed the challenge of impressing even the most perfectionist customer in this category. It has produced a vehicle, which is ideal for both long-time cruising as well as the daily routine.
The interior of Mercedes Benz S Class 350 is entirely new; everything has been upgraded to make your ride more comfortable. The S Class cabin is equally attractive, extremely comfortable and roomy. Inside, luxurious materials cover almost everything in the saloon. Everything that looks like leather is actual leather. Metal is used rather than being replaced by any other plastic options. The saloon also owns innovative safety systems. It is the first vehicle in the world with suspension technology that is even able to react in advance to uneven roads. Therefore, it offers an unequalled level of ride comfort.
Standard features of all S Class vehicles are too many to list. Thus, here are some of the notable features such as front seats with heat and ventilation, leather saloon, power rear sunshade, automatic climate control, and a premium stereo system with a radio. For instance, the S Class was the first car in Europe to integrate airbags and three point seatbelts. S Class safety features include changes in active safety (avoidance of accidents) and passive safety (protection from accidents).
Throughout the years, starting from the date of the production up to nowadays, Mercedes Benz S Class has received numerous awards. Several notable examples include awards such as "Best Luxury Car", "Safest Passenger Car of the Year", "Luxury Car of the Year" and many more.
These acknowledgements strengthen the reputation of the S Class as a technological leader and a definitive example of luxurious travel.
Below you can find some benefits of booking a transfer by Mercedes Benz S Class:
World-class limousine vehicle
Leader in the present technology
Innovative safety features
Significantly refined ride
By choosing this elegant-looking car, you will ensure your safe as well as comfortable ride. Our driver will smoothly take you to your destination, while you sit back and relax in this luxurious vehicle.